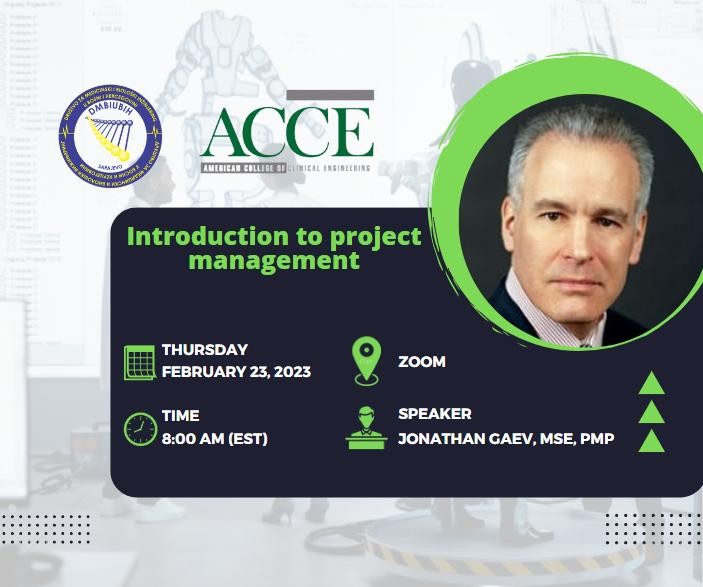 The Bosnia and Herzegovina Medical and Biological Engineering Society (DMBIUBIH) and American College of Clinical Engineering (ACCE) organize at February 23rd, 8:00 AM (EST), webinar entitled "Introduction to Project Management ".
Jonathan Gaev MSE, CCE, PMP is a certified clinical engineer and project manager. He has over 30 years of experience in clinical engineering and has applied project management principles in many settings including software development and healthcare technology.
He first received project management training at RCA corporation in the 1980's and later received his Project Management Professional (PMP) certification by the Project Management Institute in 2007. He is also a Certified Clinical Engineer, Certified Healthcare Environmental Manager and Literacy Tutor.
In this presentation, he will use examples from Clinical Engineering, give an overview of project management and describe the professional project plan.
The webinar will be held via the Zoom platform, please register via the link: https://docs.google.com/forms/d/e/1FAIpQLSfbTMbvnjltsuzNWeS3Aat2eQAqcgEBBWv1cFngiVF-5AXdIw/viewform?fbclid=IwAR1j1g_5G4qgX5bisaqEHJe1vUilNMVLWTYG_drIVuuNTvJ1dX9Wl4kO-RY
Participation in the webinar is FREE!