Društvo za medicinski i biološki inžinjering u Bosni i Hercegovini (DMBIUBIH) sa zadovoljstvom predstavlja da je u toku realizacija projekta pod nazivom "Mladi ambasadori nauke", podržanog od strane Federalnog ministarstva kulture i sporta.
Prošle godine je istoimeni projekat realizovan u srednjim školama Kantona Sarajevo, a ove godine nastavljamo sa realizacijom u srednjim školama svih kantona u Federaciji Bosne i Hercegovine.
Cilj projekta "Mladi ambasadori nauke" jeste pružanje prilike srednjoškolcima da se približe konceptima nauke, istraživanja, te procesima stvaranja projektnih prijedloga. Fokus je stavljen na razumijevanje i primjenu istraživanja, kao i na sposobnost apliciranja za projekte s ciljem obezbjeđivanja finansijskih sredstava za inovativne poduhvate. Kroz obrazovne aktivnosti, seminare i treninge, planiramo obučiti mlade kako da iskoriste naučna saznanja u svrhu vlastitog obrazovanja i napredovanja, čime će postati konkurentni na tržištu rada.
Izuzetno smo zadovoljni i zahvalni što je Federalno ministarstvo kulture i sporta prepoznalo visok nivo kvaliteta projekta i pružilo mu svoju podršku.
Sve relevantne informacije o aktivnostima projekta mogu se pronaći na Facebook stranici Društva. Zahvaljujemo se svim učesnicima na podršci i angažmanu u ostvarivanju zajedničkog cilja – promociji nauke među mladima.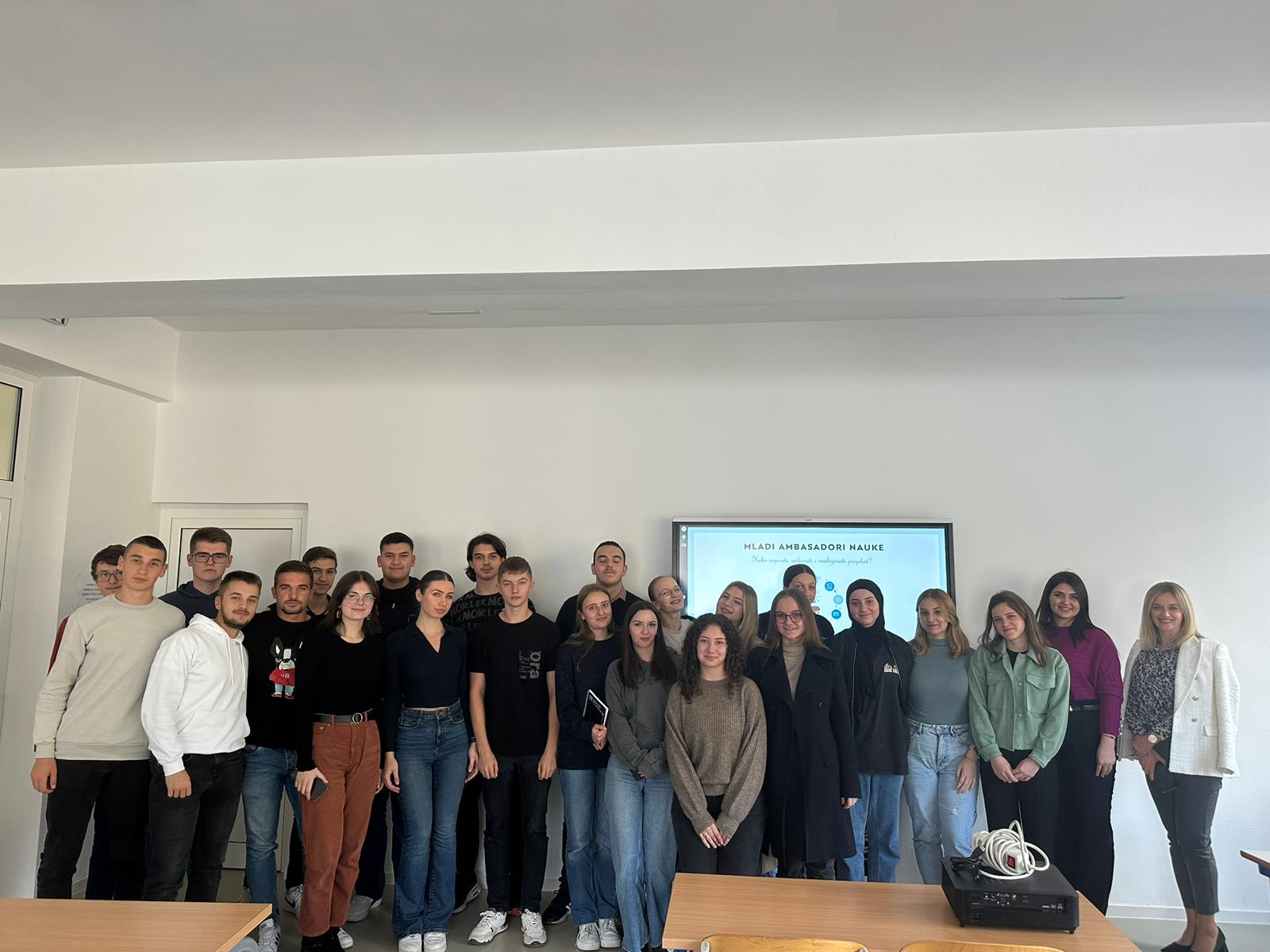 The Society for Medical and Biological Engineering in Bosnia and Herzegovina (DMBIUBIH) is pleased to announce the ongoing implementation of the project titled "Young Science Ambassadors," supported by the Federal Ministry of Culture and Sports.
Last year, this project was implemented in high schools in the Sarajevo Canton and this year we continue with its implementation in high schools across all cantons in the Federation of Bosnia and Herzegovina.
The aim of the "Young Science Ambassadors" project is to provide high school students with the opportunity to familiarize themselves with the concepts of science, research and the processes of creating project proposals. The focus is on understanding and applying research, as well as the ability to apply for projects to secure financial resources for innovative endeavors. Through educational activities, seminars, and training, we plan to equip young people with the skills to leverage scientific knowledge for their own education and advancement, making them competitive in the job market.
We are exceptionally pleased and grateful that the Federal Ministry of Culture and Sports has recognized the high quality of the project and has provided its support.
All relevant information about project activities can be found on the DMBIUBIH Facebook page. We thank all participants for their support and engagement in achieving our common goal – the promotion of science among young people.